Once again, I have fallen behind in the blog challenge. :( We had such a busy weekend that I didn't really have time to focus! It was such a good weekend though-filled with friends, family, food and fun birthday times! Levi's friend Levi (yes, he's Levi as well) turned 1, and we celebrated on Sunday with an adorable farm-themed party. I can't believe these babies are one already. Ahh!! Jeffrey went to see George Jones Saturday night with Courtney and Ben. Mom and I took advantage of that and went shopping. Woo hoo! It was a much-needed excursion for me. Last week, I decided to clean out my closet. If I had had the item more than 5 years, I tossed it. If I hadn't worn the item in the past year, I tossed it. (*Please note: I didn't "toss" them necessarily; more like bagged up to take to a community sale.) :) I stood in the closet forever pondering over some pieces when Jeffrey finally came in, took them out of my hands, and threw them on the floor! He told me to just get rid of it! If I didn't wear it anymore, throw it out! So that's what I did! It was kind of liberating! Haha. Anyways...I got some great stuff, and I'm super excited to wear it all! For instance, look at this adorable dress: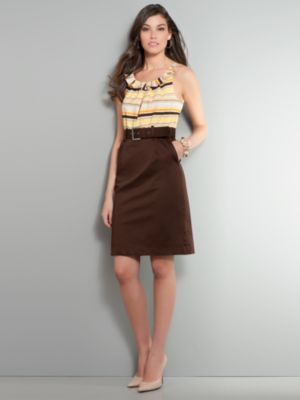 Yay!
Ok, moving on...I'm covering 2 days in 1. I'll try to keep it short though! :)
Day 14: A Picture You Love
When I thought about this topic, this picture immediately came to mind. That's my dad holding me and my grandmother kneeling beside me. I was young (5) when my dad passed away, so I don't have any memories of him. My grandmother passed away in November 2008. I have memories of her, but unfortunately, a lot of them have faded. But I will always have this picture, and I can't begin to describe how much it means to me. I didn't know my dad very well, but I love him just the same. My grandmother was and still is my hero. She was just the most amazing woman and such a vital part of my childhood. People, especially Jeffrey, always laugh at me because I have my camera everywhere and am constantly taking pictures. This picture explains why. Even though they're not here anymore, I have this picture (and many others) to remind me of them and to bring up those special feelings for these 2 very special people. I
love
this picture! :)
Day 15: Bible Verse
I'm assuming the unspoken part of this post is "favorite". I have a few favorite verses but the one that stands out to me at this point in my life is Jeremiah 29:11...
"

For I know the plans I have for you," declares the LORD, "plans to prosper you and not to harm you, plans to give you hope and a future."
This verse has always brought me peace and security. I know that even when
I
don't know what my future holds, the
Lord
does. He has a plan for me, and I need to trust in that. I've been struggling lately with what I want to do with my life: part-time job, full-time job, business, stay-at-home-mom? I just have to keep praying and have faith that God will show me my path in His own time. :)
See that was good, 2-in-1 and it's not 10 pages long! :) Now for another post for Day 16...